It's hard to say exactly what a "budget" motherboard is, and even harder to pin down what a "gaming" motherboard is. While many times the "gaming" moniker means RGB lighting or support for the fastest RAM speeds available, the overlap between normal motherboards and those explicitly tuned for gaming is quite large.
Bottom line: no, you don't need a motherboard with the word "games" in the title to be able to play on it. At the end of the day, it's all about the capabilities of that hardware, not the marketing terms found in the model number. When choosing a motherboard, your first guiding factor should be your processor (CPU) and then your graphics card (GPU).
Since GPUs are generally supported, you won't have much to check, but you will want to have a motherboard that supports the exact socket type of your CPU.
It is increasingly common to see how users choose to build their own computer instead of buying it already manufactured. The reasons can be multiple, as well as the advantages. From the simple fact of setting up a custom gaming, to the savings that it can mean if you have enough knowledge.
There are even companies that do the assembly themselves (for a small fee) if you buy the parts separately. However, beyond aesthetics or price , two fundamental aspects of this type of practice, you must take into account the specifications .
In fact, before diving headfirst into RAM or a good graphics , you must take into account two of the most important elements of the computer. On the one hand, the power supply – as we told you in a recent topic – and on the other, the motherboard .
Top Best Motherboards Under $150
As such, we've included motherboards that have a few different socket types and case sizes, and we've kept all of our picks below the $150 mark at the time of writing.
ASROCK B460M-HDV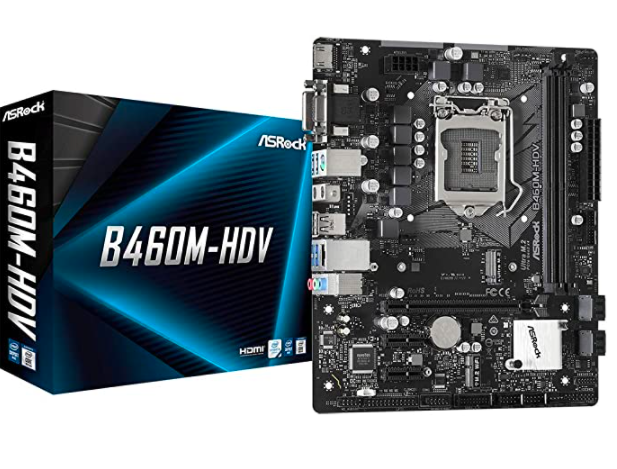 About this item
Supports 10th Gen Intel Core Processors (Socket 1200)

7 Power Phase Design

Supports DDR4 2933 MHz.Voltage monitoring: +12V, +5V, +3.3V, CPU Vcore, DRAM, VPPM, PCH, VCCSA, VCCST

1 PCIe 3. 0 x16, 2 PCIe 3. 0 x1, 1 M. 2 Key E for WiFi

Graphics Output Options: HDMI, DVI-D, D-Sub
ASRock B550M PRO4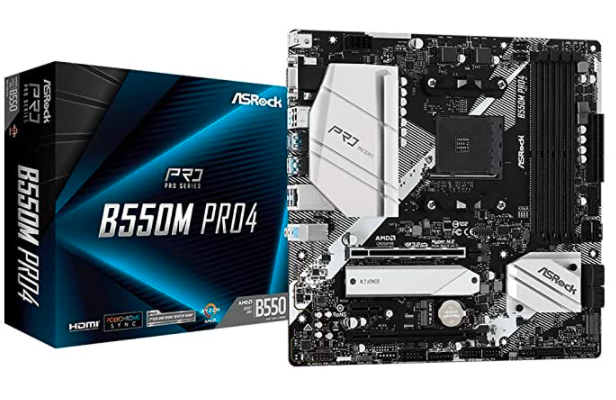 About this item
Supports 3rd Gen AMD AM4 Ryzen / Future AMD Ryzen Processors

8 Power Phase Design, Digi Power

Supports DDR4 4733+ (OC)

1 PCIe 4.0 x16, 1 PCIe 3.0 x16, 1 PCIe 3.0 x1, 1 M.2 Key E for WiFi

Graphics Output Options: HDMI, DisplayPort, D-Sub

*Not compatible with AMD Ryzen 5 3400G and Ryzen 3 3200G.
GIGABYTE Z390 UD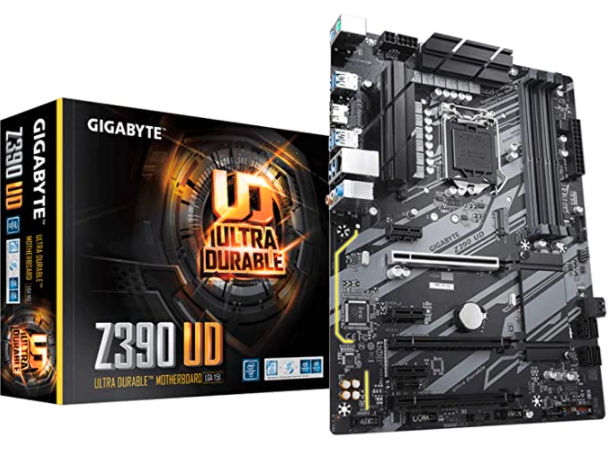 About this item
Supports 9th and 8th Intel Core processors

Dual channel Non-ECC Unbuffered DDR4, 4 DIMMs

New 10+2 Phases digital PWM design

NVME PCIe Gen3 x4 22110 M.2 Connector

Multi-way Graphics support with PCIe Armor and ultra-durable design

Gigabyte exclusive 8118 Gaming LAN with bandwidth management

Support RGB Light strip in full colors
GIGABYTE GA-A320M-S2H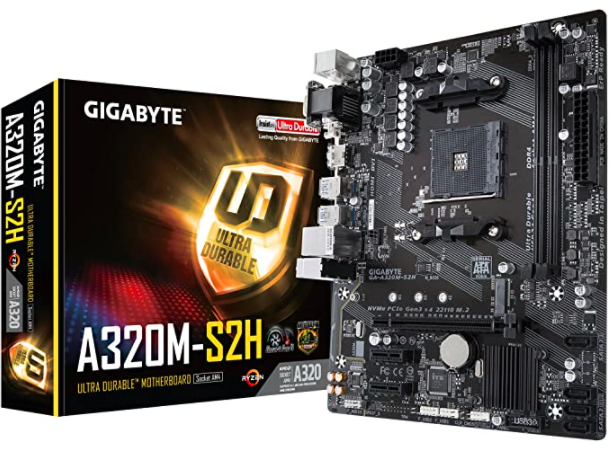 About this item
Supports AMD Ryzen & 7th generation A series/Athlon processors

Dual channel non-ECC unbuffered DDR4, 2 DIMMs

Ultra-fast PCIe Gen3 x4 M.2 with PCIe NVMe & SATA mode support

High quality audio capacitors and audio noise guard

Realtek Gigabit LAN with cFosSpeed internet accelerator software
The latter, the true protagonist of today's topic, and an indispensable element for any computer. More than anything because, the motherboard is the one that will determine what updates we can apply in the future on that same computer.
It will limit the type of processor, RAM or even external connections. For all that, we must carry out not only good planning, but also pay attention to the smallest detail. Today, we want to present you the best options on the market for less than $150.
Source: gigabyte.com
How Do We Choose?
Motherboards, like  and those  , are key pieces of our computers and many are unaware of their existence and what they really offer. The difficulty in choosing one is that there are many models.
In order to know what to pay attention to when buying one of these products, it is important to identify the criteria based on which it can be judged:
The format: Most use an ATX format, which requires larger packages, but they are faster and have more PCI-Express ports and more memory card space, as well medium-sized Micro-ATX . Motherboards Mini-ITX is the smallest and often the most expensive. They are great for a small gaming PC, but they have fewer PCI ports and less room for RAM.
The chipset: this is the main element of a motherboard. It will control the flow of data between the microprocessor and the other elements that make up the motherboard. Therefore, a good chipset offers more functions. It will have an influence on the performance of the processor. The best ones will often come from AMD and Intel, who will offer a different number of ports.
Connectivity– You need to check how many RAM ports are included and how fast they can go. There's no point buying a DDR4 if you can't run it full throttle on your motherboard. Better buy a motherboard that has a connector adapted to the hard drive you want to install.
Compatibility: Processors evolve and motherboards follow the same curve, modernizing to accommodate next-generation processors. Therefore, it is better to pay attention to the type of CPU you have to choose a motherboard compatible with the latter.
The cooling system: allows to cool the elements that have too high temperatures. This is often the case with overclocking, which is a process that aims to exceed the CPU clock frequency, which tends to overheat this component and this is where fans step in to counter this.
A first stealth search allowed us to isolate 15 models, which deserved more attention from us, due to their popularity with users and their reliability.
By looking at tests conducted on the Internet, by looking at the technical sheet of all products, by reading the opinions of French and English-speaking Internet users, and by ensuring the legitimacy of these comments, we were able to extract the 5 best motherboards of the moment .
Choosing the best motherboard for gaming (or the best motherboard for another type of build) is in many ways an integral part of building your PC, despite the fact that choosing the best CPU or the best graphics card often receives More attention.
Almost every part of your PC connects to your motherboard. Its form factor dictates the size of your computer (and case), and its chipset and socket limit the type of processor you can install.
If you're not sure which chipset you're looking for when choosing the best gaming motherboard for you, or have more basic questions for a different type of build, you can visit our motherboard basics and feature motherboard buying guide. To help narrow down your purchasing options.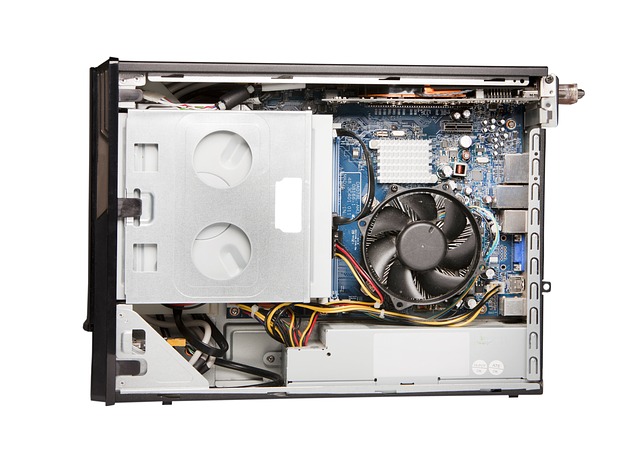 The following options include the best gaming motherboards designed for Intel. 11th generation " Rocket Lake" as well as the 9th generation " Comet Lake" and " Coffee Lake Refresh".
Below our top picks, you'll find our recommendations for the best high-content motherboards from Intel. End Desktop (HEDT) LGA-2066 socket and X299 chipset compatible with the X-Series and Extreme line of processors.
The second page of this guide covers the best AMD motherboards, including the X570 and B550 chipset models, as well as high-end Thread ripper picks that rival Intel's. X-Series platform.
When choosing a motherboard, keep the following in mind:
Get the right socket for your CPU: You can find great CPUs from Intel or AMD . But whatever processor you choose, make sure your board has the correct socket to support it. The latest mainstream AMD chips use AM4 CPU sockets while Intel's 10th Gen and 11th Gen Core CPUs require LGA 1200 sockets.
Smaller boards = fewer slots and features. Motherboards come in three main sizes; For more information, see our motherboard parts diagram and explanation. From highest to lowest, there are ATX, Micro-ATX, and Mini-ITX. (Yes, Mini is smaller than Micro).
You can use a smaller chassis with the micro or mini boards, but you will have to settle for fewer expansion card slots, sometimes fewer RAM slots and other connectors. Pay for built-in Wi-Fi and high-end ports only if you need them. 
Don't spend more on wireless connections if you are using a wired connection. You can be future-proof your PC by getting USB 3.1 Gen 2 and / or Thunderbolt support.